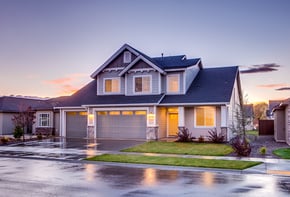 If you have a whole-house humidifier, you know it serves a critical purpose in your home. In addition to keeping the air moist enough that it doesn't dry you out like a tumbleweed, an in-home humidifier can help improve the health and wellbeing of your household by keeping interior moisture in check.
Your home humidifier runs almost constantly, so it needs maintenance and service on a regular basis - especially during the winter months.
Read on to learn more about why it's so important to take care of your home humidifier, and how best to do it.
What Happens When You Don't Maintain a Humidifier?
Since your whole-house humidifier's system deals with moisture and humidity, cleaning and maintaining it is critical. If you don't, the system is at risk of developing germs and bacteria that can put your health at risk. This can even happen if you do maintain your system but you just have the humidity set too high. With this in mind, have a specialist evaluate your system regularly to ensure it's staying clean and productive all year-round.
How to Care for Your Humidifier
Now that you know why it's so essential to clean your humidifier regularly, let's talk about how. The
DIY Network
suggests cleaning the blades of your humidifier's fan on a regular basis and having a certified technician maintain your system regularly.
In addition to giving you a chance to get rid of any dust or debris that may have collected throughout the year (and especially during the off-seasons), it also allows you to inspect the blades for damage and repair them accordingly. While you're at it, give the fan's intake vent a good cleaning, as well.
Good Maintenance Makes for Good Systems
In the worlds of A Borrelli owner Al Borrelli, "There is not a system that can be left alone, today's systems are very efficient but they need to be maintained for optimum performance."
You rely on your home humidifier throughout the year to keep your home comfortable and healthy. A routine of regular maintenance and cleaning is an effective way to ensure your humidifier remains reliable and functional for years to come.
Need a little extra help caring for or maintaining your humidifier?
Contact A Borrelli
. As a certified Aprilaire dealer, we're here to help you with all your HVAC needs.