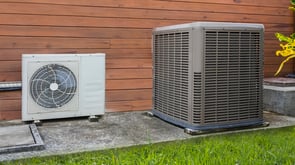 As the summer heat is just getting started, homeowners are looking for ways to help them beat the heat. And although there are a great number of things you can do inside the house (such as waiting to run your washer or disher until later in the evening when it's cool), there's one thing every homeowner should do to help their air conditioning unit function at peak performance this summer. It's a quick little job that only requires a bit of your time and a pair of pruning shears. That's right, pruning.
Believe it or not, your air conditioning unit (or heat pump) needs a lot of breathing room to function properly – somewhere in the area of 3-5 feet on at least two sides. It's too bad that some homeowners think their A/C units are noisy and unattractive, and try their best to surround them with bushes and flowers and shrubbery, because, in some cases, they're only making it more difficult for the air conditioner to do its job. And when the A/C unit can't do its job, your house begins to heat up unnecessarily. On top of all that, an over-worked air conditioner has a much shorter lifespan. By giving your A/C unit space to breathe, you're actually protecting your investment.
Planting bushes, flowers, or shrubs too close to the A/C unit will block air flow to the evaporator coil, reducing the unit's ability to cool the inside of the house. Given that the evaporator coil is trying to remove heat from the house and requires airflow to dissipate that heat, blocking it up with shrubs and bushes will not only ensure that your house is hotter in the summertime, but it will also force the A/C unit to work harder and send your electric bill skyrocketing.
Keep in mind that it's actually okay to plant around your outdoor air conditioning unit, as long as you give it enough breathing room. A shaded area for your air conditioner will actually help it function better during periods of extreme heat. But, any plantings that are too close to the air conditioner will be continually blasted with hot air from the unit (which dries them out). So, make sure you read the planting instructions card that comes with your flowers or shrubs and see just how much room they'll take up when fully-grown. Plan accordingly when you plant, give your A/C unit 3-5 feet of breathing room on at least two sides, and you'll stay a lot cooler in the summer.
Lastly, you'll also want to peek at the area around your air conditioner from time to time to make sure there's no debris cluttering its space. Leaves, grass clippings, and litter can easily cling to the sides of the A/C unit and make it work harder to cool your house.
With licensed, trained, and insured technicians in Westchester and Fairfield, homeowners can count on A. Borrelli HVAC to handle their heating, cooling, and plumbing needs expediently. At A. Borrelli, we do HVAC and plumbing right, so call us at (914) 301-7495 today!