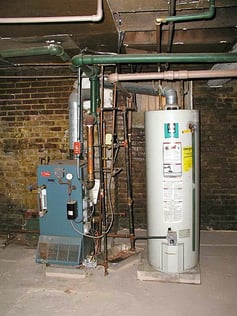 Once winter passes and you're enjoying bright summer days, you probably don't think about your heating system at all. However, while your oil furnace may keep you warm in harsh temperatures, it's not the best option for your home. Natural gas conversion switches your fuel source from oil to natural gas. And, because the gas conversion process may take up to three months, starting in the summer gives you plenty of time to make the switch before the first frost. You get four significant benefits from this change.
Lower Energy Costs
The U.S. Energy Information Administration reports for the winter of 2019–20, EIA forecasts that the residential natural gas price will average $10.03 per thousand cubic feet (Mcf), up from $9.76/Mcf last winter, while EIA expects natural gas spot prices to average $2.56 per million British thermal units (MMBtu) ($2.66/Mcf) this winter, which is 24% lower than last winter.
Lower Maintenance Requirements
How much time and money do you spend on oil furnace maintenance? You have to stay on top of your oil supply, get the soot cleaned out of the system, pick up new oil filters and keep up with a service contract. However, you won't have to worry about any of that with a natural gas furnace.


Reduced Carbon Footprint
Natural gas offers an eco-friendly advantage as a clean-burning fossil fuel. The EIA found that gas produces 1.22 pounds of carbon dioxide per kilowatt hour, while oil produces up to 1.76 pounds. Your home generates less pollution so you can live a more eco-friendly life.


No Shortages
The oil market fluctuates based on international influences. Your winter heating bill shouldn't be variable based on political pull and the global oil supply. Oil pricing and limited local quantities can quickly put you in a situation where the price increases significantly due to a lack of inventory. In contrast, natural gas comes from domestic sources, so it's readily available with a predictable price.
Natural gas brings many benefits, from lower costs to decreased maintenance. A large majority of residents in Westchester and Fairfield Counties rely on natural gas to get them through the cold weather. You can join them and find out first-hand why so many people prefer this efficient energy source.