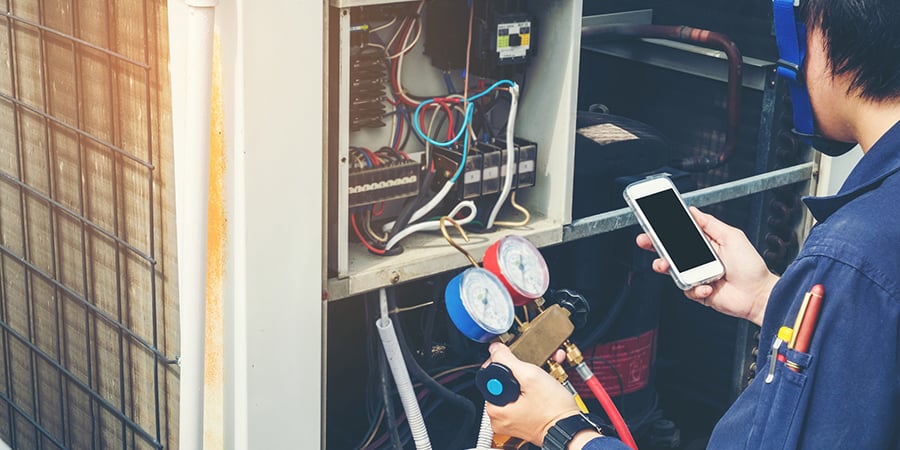 As we watch the leaves changing, we start to feel the familiar temperature change on the East Coast. When you're preparing for the upcoming seasonal temperature change, making sure your heating is running properly is probably one item on your list. Cleaning your HVAC system's coils should also be.
What is an HVAC Coil?
You probably hear the term coils from your HVAC professional after he cleans your system. There are two types of coils that are part of your unit.
HVAC Evaporator Coil
The Evaporator Coil is located indoors and inline with your ductwork. When your heat is running, this coil adds heat into the air. When your AC is running, it pulls heat from the air and adds cool air to it. Refrigerant moves through your evaporator coil to create the air temperature you are trying to reach.
HVAC Condensor Coil
The Condenser coil is located in your outdoor unit. It's job is to regulate the temperature of the refrigerant that circulates in your other coil, also known as your evaporator coil.
Why is Coil Cleaning Necessary?
Whether you're running your system or not, overtime dust and debris gather inside of your HVAC coils. When this happens, your HVAC system needs to work harder to operate in a clogged up system. Dirty coils can cause:
Poor indoor air quality
Higher electrical bills
Strain on your entire HVAC system
Higher home humidity levels
Can I Clean My HVAC Coils Myself?
Coils are a delicate and integral part of your HVAC system (and not to mention, expensive!). Because of this, they should only be cleaned by professionals with the right tools. Attempting to clean them on your own with the wrong tools can cause damage to them.
How Often Should My HVAC Coils Be Cleaned?
The minimum advised to go without cleaning your coils is once every three years. Any older systems or highly used systems should be cleaned more frequently than that.
How Do I Schedule My Coil Cleaning?
Coil cleaning is part of regular HVAC maintenance checks that A. Borrelli performs. If it's been a while since you've had your coils cleaned, call A. Borrelli Mechanical today for your HVAC check-up. We can help get your HVAC system running smoothly for the upcoming Fall and Winter seasons.