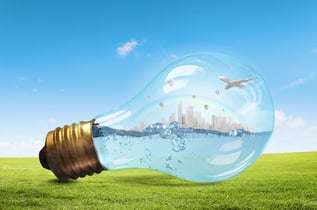 When people consider buying a new furnace, they see an efficiency rating on the appliance. But, what does furnace efficiency mean, and how do buyers know what they need? Furnace efficiency is merely one part of the overall efficiency of your HVAC systems. And, furnace efficiency requires proper care and maintenance for maximum output and longevity of the appliance. With the right equipment, as well as professional maintenance and assistance from A. Borrelli HVAC, property owners improve their furnace efficiency.
What is an AFUE Rating?
Each furnace has an Annual Fuel Utilization Efficiency (AFUE) rating that shows consumers the maximum efficiency of that particular model. The rating translates into a percentage of efficiency. If a furnace has an AFUE rating of 75, the furnace converts 75 percent of the energy consumed into heat. The United States Department of Energy requires that all furnaces sold in the U.S. have an AFUE rating of 75 or higher. In order for a furnace to earn Energy Star qualification, an oil furnace must have an AFUE of 85, while a gas furnace must have an AFUE of 90.
Why is Efficiency Important?
Efficiency relates to many different contexts within the HVAC system of a home or business. Each component must be working efficiently in order for you to have energy efficiency. For example, you could purchase a new furnace with an AFUE rating of 90. But, if you have leaks in your ductwork, you may lose as much as 40 percent of that furnace's heat through the leaks. Failure to use a programmable thermostat properly also accounts for an increase in energy consumption. As such, it is important to maintain all parts of your HVAC system for maximum efficiency.
How Do Furnaces Lose Efficiency?
Furnace efficiency is a variable concept. AFUE ratings only refer to the maximum efficiency you will get from any particular piece of heating equipment. Over time, without proper care, furnaces will gradually lose efficiency. To achieve the best efficiency in your heating system during the colder months, you should schedule routine maintenance with A. Borrelli Residential & Commercial HVAC Services. Our experienced technicians perform simple tasks to improve efficiency, and also repair broken components that decrease the longevity of your HVAC machinery. We also instruct property owners in proper use of furnaces, to allow thermostats to keep rooms warm in an efficient fashion. And, when the time is right, we help consumers decide if they could benefit from the purchase of a newer, more efficient furnace.
AFUE rating is a useful tool to determine if your furnace will be adequately efficient for your needs. A higher rating will likely reduce costs on your utility bills.
With licensed, trained, and insured technicians in Westchester and Fairfield, homeowners can count on A. Borrelli HVAC to handle their heating, cooling, and plumbing needs expediently. At A. Borrelli, we do HVAC and plumbing right, so call us at (914) 301-7495 today!