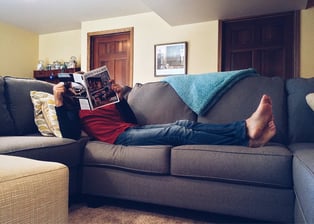 Keeping your home safe is important in raising a healthy family. However, while security systems with motion detectors are at the top of the typical safety list, keeping a home free of contaminants that can jeopardize the health of everyone in the home is easy to overlook.
By following a few easy guidelines, you can make sure your HVAC system is running properly and not subjecting your family to harmful contaminants. When you pair these tips with the Activepure technology of the Air Scrubber Plus system, your home will be free of the pollutants that can be so damaging to the people you love.
Basic Maintenance Tips
Your HVAC system is dependent on the flow of healthy air to provide comfort to your home. Routinely changing filters can drastically improve the efficiency of your HVAC system. Newer filters are designed to not only provide clean air to your system but also to filter out many of the airborne toxins, allergens and contaminants that can put your family at risk.
Determining how often to change the filter depends on how much you use the system. As a rule of thumb, changing filters at least once every three months should provide protection for both your family and the HVAC system. However, if you use your system for more than six months of the year, changing it once a month is the best way to make sure it continues to filter out those unwanted contaminants. Likewise, cleaning the cooling coils and drain pan when you change filters will significantly reduce dust and minimize the effects of any leaks.
Moisture Is the Enemy
We've all heard the horror stories concerning mold in a home. It not only creates a foul smell, but it can also seriously jeopardize the health of everyone living in the house. For that reason, periodically checking your air ducts for leaks is crucial in keeping moisture out of the system. Make sure that the duct joints are always well sealed and not susceptible to the moisture that is commonly found in attics and rooftops.
The Best Defense Is a Good Offense
Even the best maintenance efforts can fall short of providing your home with clean, healthy air. Rather than waiting for an expensive system failure, however, integrate the Air Scrubber Plus system, which is capable of eliminating up to 99.9 percent of harmful contaminants, into your existing HVAC unit. This will extend the life and effectiveness of your entire system. Contact the experts at A. Borelli Mechanical to see what a difference the Air Scrubber Plus can make for your home and family.