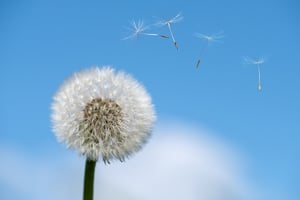 Achoo! Allergy season is upon us, making it difficult to enjoy the warm summertime weather. Runny nose, itchy eyes, and sneezing are all too familiar if you have allergies.
While the pollen in the air will make it inside your home, there are some things you can do to reduce your symptoms:
1. Clean and Vacuum once or twice a week: Wipe down and clean all surfaces in your home with a damp cloth. Vacuuming helps remove allergens that settle onto other surfaces in your home.
2. Do an HVAC maintenance: Your HVAC system moves air throughout your space. When allergens get into your AC, heating, and ventilation equipment, they get spread around.
Get HEPA filters - Normal filters only keep large dirt and debris particles from damaging the equipment. HEPA filters are high-energy particulate air filters that trap more than 99 percent of pollen, dust, and smoke.
Inspect air ducts for mold and debris - Leakes in the ductwork can cause allergens to leak into your home through your HVAC system. Maintaining your ductwork so it's clear of debris and properly insulated will allow you to breathe in cleaner air.
Clean around outdoor unit - Make sure that the condensate drawn is not free of dust and not clogged.
3. Keep doors and windows closed: Peak pollen hours are 5am to 10am. Be sure your windows are closed to prevent any pollen from entering your home.