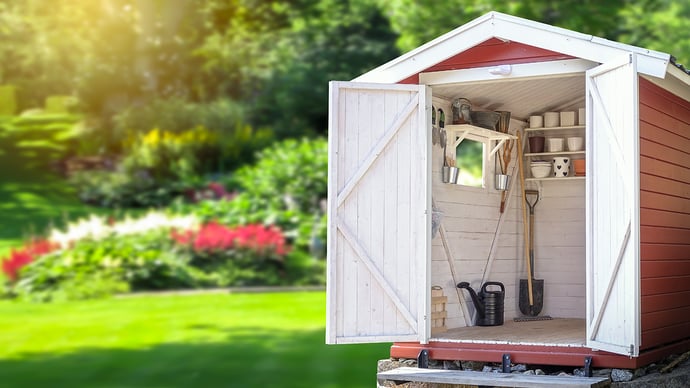 Are you storing the same items in both your shed and garage? It's common to confuse these two areas, but it's important to optimize each space and prioritize safety by separating the appropriate items. Your shed or garage can quickly become an oversized version of your cluttered junk drawer without proper organization. Here are some tips on what to store in each space:
What to store in the shed:
Lawn and garden tools: Sheds are great for storing items like lawn mowers, shovels, rakes, and other gardening tools. Keeping these items in a shed frees up space in your garage and keeps them organized and easily accessible.
Outdoor equipment: If you have sports equipment, outdoor furniture, or other outdoor gear, a shed can be a great place to store it. Just make sure that the shed is properly ventilated and protected from moisture.
Seasonal items: Sheds are also good for storing seasonal items, such as holiday decorations or summer toys.
Home improvement supplies: If you're a DIY enthusiast, you may want to store your home improvement supplies in a shed, such as power tools, lumber, and paint.
What to store in the garage:
Vehicles: The primary purpose of a garage is to store vehicles, such as cars, motorcycles, or bicycles.
Tools and equipment: A garage is also a good place to store larger tools and equipment, such as a workbench, table saw, or air compressor.
Household items: Some people also use their garage for storing household items that don't fit in their home, such as extra furniture or boxes of seasonal clothes.
Recreational equipment: If you have recreational equipment that you use frequently, such as camping gear, hiking equipment, or sports gear, you may want to store it in your garage for easy access.
A great storage tip for both your garage or a shed, is to purchase plastic bins and label them on the outside, so you know what the contents of each box is. By following these tips, you'll have your spaces organized in no time.