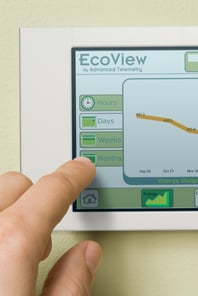 Long summer days are a great time to get outside and enjoy the weather. When it gets too hot, you rely on your home's central air to keep your family cool. However, the high cost of air conditioning in Westchester can wreak havoc on any budget. Luckily, A. Borrelli Mechanical can help you keep expenses down with the installation of a programmable thermostat.


Automatic Settings for Time and Temperature
After a long day at work, the last thing you want is to walk into a sweltering house. However, leaving the air conditioner on all day isn't an appealing alternative. With a programmable thermostat, you don't have to decide between these two options. Instead, you can program your cooling system to switch on and off at the times you select.
For example, you can set your programmable thermostat to automatically turn off the A/C when you leave for work, then turn it back on again before you return home. You choose the schedule for the temperature you prefer, which means your air conditioner only runs when needed. This adds up to big savings by the end of the summer.


Customized Cooling Schedule
Programmable thermostats were designed with your needs in mind, so you are able to create different schedules depending on your weekly routine. If your days off are Sundays and Wednesdays, don't worry. You can program your thermostat to keep the air conditioning on all day while you are home. If there is a change in your routine, for example a holiday or an unexpected day off, you can override the program on an as-needed basis without resetting the entire system.


A Small Initial Expense Means Big Long-Term Savings
Considering the savings realized by most people who use a programmable thermostat, you might think buying and installing a system is going to be pricey. You will be pleasantly surprised to discover how affordable programmable thermostats are. Units can be purchased for $25 - $250, depending on the features you prefer. Some of the more expensive models even come equipped with wifi, so you can control your thermostat remotely.
While it is possible to install a programmable thermostat yourself, it is best to have an expert HVAC servicing professional in to complete the job so you don't run into any issues down the road.