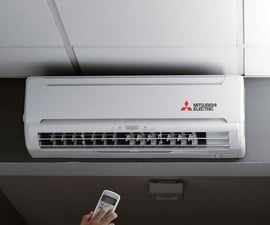 Do you have higher than average energy bills even after taking steps to reduce your energy use? Are you constantly spending money on air conditioning repairs? Is your old air conditioner just old? If your answer to any of these questions is yes, it's time to start thinking about a new air conditioner, and if you want a dependable, top-of-the-line system, it's time to start thinking about Mitsubishi Electric ACs.
Save Energy and Lower Your Utility Bills
Mitsubishi Electric HVAC systems are engineered to run in the most energy-efficient manner possible. In addition to improved components and materials, Mitsubishi Electric systems change the way air conditioners operate. This includes
Cooling in zones so energy isn't used cooling unoccupied rooms
Variable speed cooling to avoid the energy wasted by air conditioners that constantly start and stop
Using multiple thermostats to get a true picture of your home's temperature
Homeowners see an average energy savings of up to 40 percent over window air conditioners.
Take Advantage of Smart Technology
At the heart of each Mitsubishi AC unit are four key components.
A cutting-edge INVERTER-driven compressor that allows the system to adjust its cooling output to keep your home's temperature constant
i-see Sensor technology that can scan the temperature in the entire room instead of just at the thermostat and make adjustments to eliminate hot and cold spots
Advanced filters that eliminate dust, odors, bacteria, and viruses to keep your air healthy and clean
Environmentally friendly components including refrigerant that doesn't harm the ozone layer and parts that can be recycled when the time finally comes to replace them
Forget Your AC is Even There With Whisper-Quiet Operation
The days of being worried about going deaf when your window air conditioner is running or not being able to enjoy an outdoor BBQ because your outside air conditioning unit is grinding away are over. Mitsubishi Electric's indoor air conditioning units are designed to be literally as quiet as a whisper at just 19 decibels. Outdoor units operate as low as 58 decibels — the same as the noise levels inside a typical office or restaurant.
Control Your Air Conditioner From Anywhere in the World
You no longer need to walk to the thermostat to change the temperature. In fact, you don't even have to be in the same time zone. Mitsubishi Electric air conditioners offer WiFi connectivity to allow you to adjust your air conditioner's settings from any computer, smartphone, or tablet using a free app. If you don't know what time you'll be home from work or forget to turn off your air conditioner before leaving on vacation, you don't have to worry about wasting energy.
In addition, Mitsubishi Electric systems offer outside air sensors that make automatic adjustments based on the outside temperature. Does your current air conditioner do that?