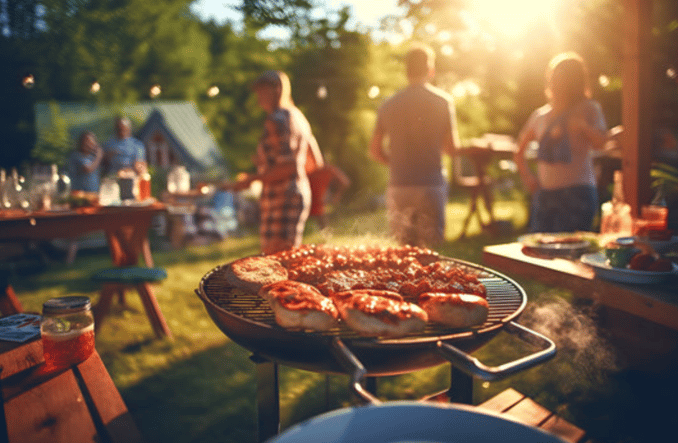 Many people look forward to celebrating with friends and family in their backyards during the 4th of July. Whether you're planning a small gathering or a big party, preparing your backyard can ensure a memorable and enjoyable celebration. The good news is, we are giving you a comprehensive guide on how to get your backyard ready for an epic July 4th celebration.
Clean and Declutter:
Start by giving your backyard a thorough cleaning. Remove any debris, fallen leaves, or trash from the area. Sweep the patio, deck, or any other outdoor spaces to ensure a clean and inviting atmosphere. Declutter by organizing outdoor furniture, toys, and gardening tools.
Create a Festive Atmosphere:
Decorate your backyard to reflect the spirit of Independence Day. Hang patriotic flags, use red, white, and blue tablecloths, napkins, and plates for a cohesive theme, and string lanterns for an enchanting evening ambiance.
Provide Shade and Protection:
July can be hot and sunny, so it's important to provide shade for your guests. Set up umbrellas to offer relief from the sun. If you have trees in your backyard, make sure to trim any low-hanging branches that could interfere with seating areas or activities. Providing ample shade will ensure everyone stays comfortable throughout the day.
Bug Control:
Prepare for pesky bugs by lighting citronella candles or using insect repellents to keep them at bay. You can also invest in outdoor fans to create a breeze, which helps deter flying insects.
Plan the Menu:
Food is an essential part of any Fourth of July celebration. Consider grilling burgers, hot dogs, or barbecue chicken. Offer a variety of salads, side dishes, and refreshing beverages. Don't forget to include traditional American desserts like apple pie or homemade ice cream and additional choices for those that have dietary restrictions.
Safety First:
Fireworks are often a highlight of July 4th celebrations, but it's crucial to prioritize safety. If fireworks are legal and permitted in your area, ensure you follow all local regulations and guidelines. Consider leaving fireworks to the professionals and attend a community fireworks display instead.
By following these tips, you'll be well on your way to creating a spectacular July 4th celebration in your backyard. Happy Fourth of July!