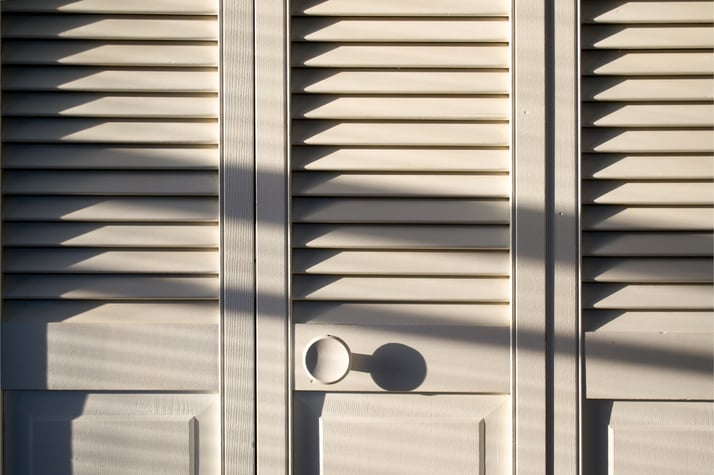 Frustrated with your closet doors? Perhaps they frequently get stuck in their tracks or interfere with your furniture layout. Maybe you aren't utilizing your closet space in an efficient manner – using it as a catch all for miscellaneous objects and clothing, or hardly using it at all. If you find yourself looking for ways to reimagine your closet space, consider removing the doors.
Once the doors are removed, there are plenty of new ways to make the most out of your closet space. For example, you can continue using your closet as it was intended but organize clothing and objects with a linen closet to create a staple piece in your room's design. Depending on the space of your closet, you can also place furniture in there such as bookshelves or dressers to reclaim some of your main room's space. You can also simply replace the doors with ones you like more to spruce up your room's appearance.
Fortunately, removing closet doors is a simple process, though you may want to have a second pair of hands to help you carry the doors once removed. Here's how to remove some common closet doors:
Folding Doors
Folding doors are connected to the frame tracks by pins. The doors are made of panels and attached by hinges. These closet doors open up and outwards into the room. To remove folding doors:
Close the doors so that the two panels are together.
Lift the door when the panels are folded so that it comes loose from the bottom track.
Angle the doors outwards from the bottom track to remove them.
Remove remaining hardware and tracks.
Rolling Closet Doors
These types of doors are typically attached to a rail at the top by wheels and have two doors in the system where one slides over the other. To remove these doors, it involves lifting the doors from the bottom of the track at an angle so it can come out of the top:
Loosen the screws that attach the wheels to the door so that there is more room between the door and the upper track.
Slide the first door so that it is away from the edge of the door frame.
Pull the door at an angle towards you so that the wheels dislodge from the upper track and remove the door.
Repeat with the second door.
Remove any remaining hardware.
Once the doors are removed, it's time to reimagine your closet space. Whether you want to use this newfound space for a completely different purpose or simply install new doors, this simple process is enough to spruce up any living space.