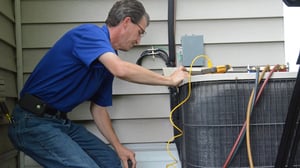 Having to repair or replace your air conditioning system in the middle of summer is never fun. But if you find yourself in such a scenario, you will need to hire an HVAC contractor who is properly trained, insured, and specialized to work on the equipment in your home.

Here's how you can choose an HVAC contractor to work on the HVAC system in your home or office:
Confirm License and Insurance - Depending on your location, HVAC contractor may be required to obtain a license by the state, municipality, or county. Ask the HVAC contractor to show you copies of their current licenses or certifications. The contractor should also be insured in the event they are injured on your property. You do not want to be legally responsible for any injuries to the contractor while they are on the job or in your home fixing an HVAC issue. A "yes" answer should mean the contractor is prepared to give you evidence of his/her bonding and insurance.
Look For a Guaranteed Service - No one wants to pay twice for the same service. If you're getting a new HVAC system installed, see if the contractor offers any labor warranty on the work.
Get Estimates - Don't settle for the first AC contractor you get in touch with. Shop around and ask for quotes on the job. Don't be shy to ask a contractor why they recommended x unit over y as their competitor did. Research the products that are recommended to you before making the decision.
Make it Official - Always sign a proposal before the work gets started. This will protect you and the installation taking place in your home. Important details to ask for in writing are the dates on which the work will be performed, the cost of all fees, labor, and equipment, potential future fees such as upgrades, and payment due dates.
The installment, maintenance, repair, or replacement of an HVAC system is expensive. Follow all the suggested steps above to make the best choice. A. Borrelli has been serving Westchester and Fairfield Counties since 1981. Contact us today to learn more about our air conditioning services.