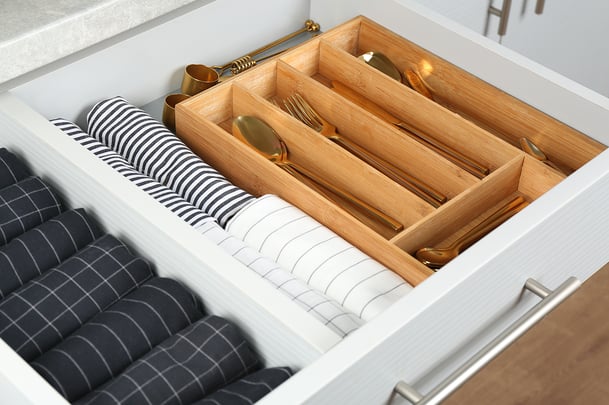 After a long winter of hunkering down in your home, you may feel like any organization you had was lost. Spring is the perfect time to not only clean your house, but also organize everything in the right spaces. The key to spring organizing is taking it one step at a time. Here are some tips to get your home tidy and clean in no time.
Go Room by Room
When you first start to organize your home you probably are going to feel overwhelmed. The best way to approach it is by going one room at a time. This project most likely won't get done in only one day, so you can decide which room or rooms you want to focus on one day at a time. Doing it this way will allow you to take your time and organize everything the way you want.
Declutter and Get Rid
When you are going room by room organizing, it is important to declutter and get rid of the items that you no longer need. Go through your drawers and cabinets that haven't been touched or cleared out in months and throw away any old mail or trash. This is going to be an important step when you get to your closets and kitchen pantry. The pantry is a great place to start when spring cleaning. You can go through all of your food and throw out anything that's expired. Try to get rid of everything that isn't being used so you can create a new space for items you'll buy in the future.
Rotate Seasonal Items
With the weather starting to get warmer, it is also time to get rid of those winter items lingering around your house. This may be as simple as winter boots or coats that need to be stored away, or winter decorations that are still up. You can use storage bins and organize them underneath your bed, in the garage, in your shed, or wherever you feel these items will be out of the way until you need them again. When you rotate your seasonal items you'll feel that your space feels newer and cleaner with the fresh touch up.
Spring Maintenance
After everything is organized and decluttered, it is a good idea to do some home maintenance as well. Make sure you do the following:
Check all the air filters in your vents. If you need them changed, this is something you can have an HVAC professional to do for you.

You should always inspect your gutters in the spring to make sure the snow or cold weather didn't affect them. If you see any cracks or mold, consider calling a professional to replace or restore them.

Take a look at the exterior of your home such as the windows, doors, and side paneling. They may need to be freshened up due to any cracks or just in need of an overall good clean up!