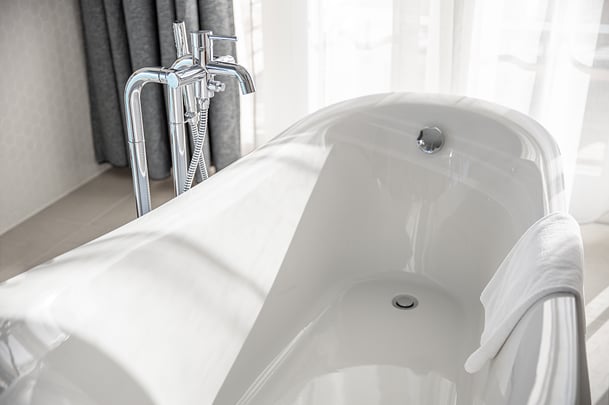 Cleaning the bathroom is never something we look forward to. The sink and toilet can easily be wiped down, but scrubbing the bathtub sounds like it will take some effort. The good news is, keeping your tub clean for longer and with less effort is possible. Here are some tips to have a sparkling tub without all the hard work.
Start with a Deep Clean
This is most likely going to be the worst part, but the best way to keep your tub clean is to start with a clean tub. Use hot water and any bath cleaning spray you can purchase, but baking soda and vinegar also does a great job. Grab a cloth or scrubbing brush and make sure to pay attention to the grout, drain, and faucet as well. You'll be left with a sparkling tub that's completely free from any mold, mildew or scum.
Clear out the Drain
If you think there's a clog in your bathtub drain or it's been a while since the drain has been cleaned, it's time to clear it out. A dirty bathtub drain can create odors and build ups will happen quicker if the water in the tub isn't draining well. For tougher clogs, contact an experienced plumber to effectively clear the drain.
Rinse After Every Use
To avoid build up of soaps and oils, simply take a minute after each use to rinse your bathtub. It only takes seconds to do, but it can save you a lot of cleaning time in the future. Let the water run after you get out of the bath and make sure the water is running clear with no soap suds or bubbles.
Scrub Away Stains
Rinsing with just water won't always be enough to keep it clean. Get a bath scrubber to pay special attention to the spots that are hard to clean. A scrubber will cut through the grime and keep those areas clean. Try to clean these hard to scrub areas once a month to keep your tub sparkling.
While the majority of us dislike cleaning our bathtub, keeping up with proper maintenance will reduce your overall cleaning time in the long-run. A regular bathtub cleaning routine can turn a one-hour job into a quick and easy 10-minute job every scrub.