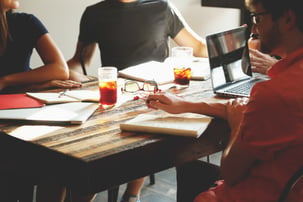 In the summer months, working in a hot office can lead to a decrease in productivity and an unhappy work environment. On the other hand, over cooling your office can also make it an uncomfortable place to work. This summer, use these tips to keep your office at the right temperature and protect your workers from fatigue, cramps and heat exhaustion.
Protect Productivity With a Multizone System
Traditional duct work isn't necessarily the most effective way to keep an office cool in the summer. For greater control over how each part of your office is heated and cooled, consider installing a Mitsubishi multizone system, which allows you to set the temperature in each room so it suits the preferences of your staff.
With a Mitsubishi multizone system you can use a thermostat to control the temperature in your office. When you don't use a thermostat and rely on managers to turn the AC on and off as needed, it's easy to end up with an office environment that is over- or under-cooled. As well as being uncomfortable for employees, an under cooled office environment also wastes electricity and pushes up your energy bills. When you use a thermostat, you can set the temperature you want and forget about it, giving your employees one less responsibility to worry about. The Mitsubishi Multizone System can be used in any office with a thermostat instead of a traditional heating or cooling system.
Take Your Cooling System With You When You Move
When you move to a new office, figuring out how to heat or cool the new space to a suitable temperature can be a big headache. A good way to protect the investment you make in heating and cooling systems is to choose a unit that you can take with you when you move offices.The Mitsubishi multizone system is a good choice when you rent office space in a building that you do not own, as you can relocate the system to a new location if you decide to move.
In summary, multizone cooling has many benefits. You can have precise control over temperatures in your office, as well as saving money on heating and cooling.
A.Borrelli is a diamond dealer!