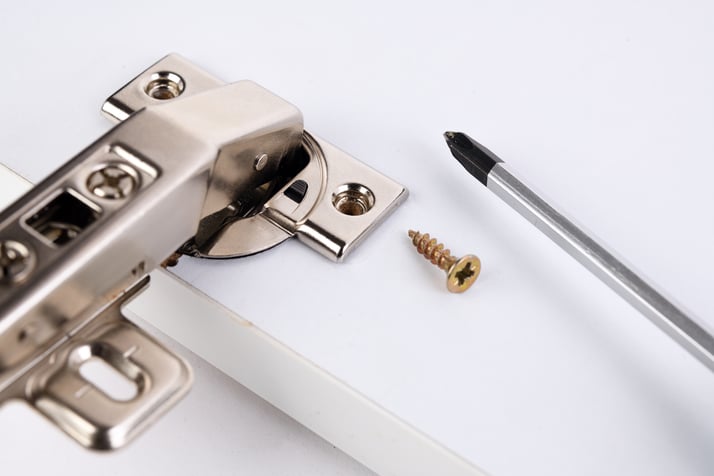 We all have that one cabinet door that refuses to close smoothly. Whether it bumps, scrapes, or hangs from the cabinet, fixing a loose door is a fairly easy process. With only a screwdriver and hammer, fixing your cabinet door will preserve the hardware and save you frustration in the long run.
Before You Begin
Before attempting to fix the door, examine what type of hinge the cabinet has. Most cabinets utilize adjustable hinges that can be moved in different directions, making repairs smooth and easy. Typically, hinges have a mechanism that can be adjusted with screws that mount the door to the cabinet. Other cabinets use a hinge that doesn't require screws to adjust. If your cabinet uses hinges that have two or more screws in addition to the mounting screws, you can fully adjust the doors.
Adjust the Cabinet Doors
Tighten Loose Mounting Screws

Check to see if the mounting screws are loose and tighten them to secure the door to the cabinet. Tightening the mounting screws will usually solve any issues with the cabinet doors but if problems persist, you must adjust the doors.
Adjust the Doors Up or Down

Check to see if the door is misaligned with the cabinet and locate the screws on the hinge to adjust up or down. Turn the screws a quarter turn or less until you are able to move the door. Close the door and adjust it to the desired height. Once adjusted, open the door carefully and retighten the screws.
Adjust the Doors Left or Right

If you find that you need to adjust the doors left or right, locate the hardware on the hinges to loosen and move the door until aligned with the other door. If the door is tilting one direction, you can straighten it by pulling up or down until level.
Adjust the Doors In or Out

To adjust the depth of your door, locate the depth adjustment screw to move the door back or forth until aligned with the cabinet box. Since wood is subject to warp depending on seasonal humidity, you may find that the door does not lay flush in the cabinet box. Adjusting the depth will solve this problem.
Adjust Loose Cabinet Doors
Once you've adjusted your cabinet doors, test them to see if they are aligned and moving correctly. If not, continue to make minor adjustments until they move smoothly inside the cabinet box.