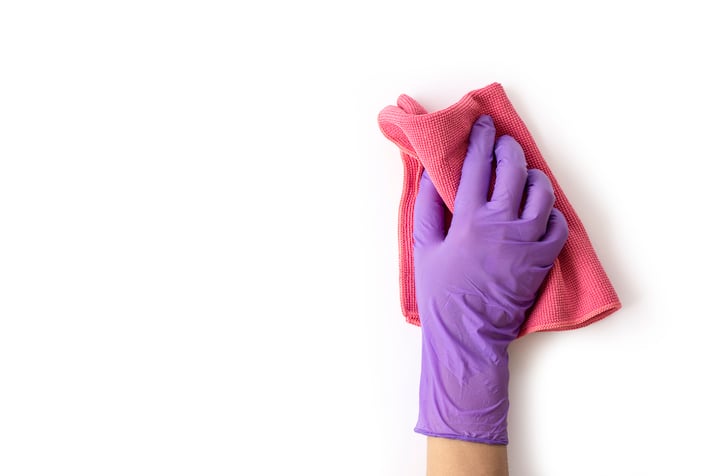 It can be a challenge to keep white walls clean. White walls, along with lighter colors, make rooms look larger and brighter but after time they are bound to pick up some scuffs and fingerprints.Typically, you don't need to clean your walls unless you are doing a deep clean of your home or preparing for a special event. For the most part, spot cleaning walls in high traffic areas is all that is needed. For spot cleaning and deep cleaning alike, here are some tips for keeping your walls looking great:
Prepare Your Tools
Begin by planning what you want to clean on your walls. Do you want to clean a few scuffs, finger prints, or remove dust from the walls? For most cleaning, you will need a soft sponge, microfiber cloth, a magic eraser, and a scrubbing brush.
Dust
If you are doing more than just a spot clean, it is a good idea to dust from ceiling to floor, beginning with the highest location first. Use a damp microfiber cloth and work your way down the wall, rinsing and wringing it out as the cloth accumulates dirt.
Spot Clean
There are a few different methods for spot cleaning your walls:
Use All-Purpose Cleaner

Spot clean your walls with an all-purpose cleaner and a microfiber cloth, rag, or any other soft material. Using an all-purpose cleaner works best for sticky stains, such as bits of food or drink, on your wall. Using an all-purpose cleaner works best when a stain is fresh.

Magic Eraser

A magic eraser, or melamine foam, is a great tool for nearly all stains or marks on your walls. Simply make the magic eraser damp and lightly scrub the stain away from your wall. However, it is important to know that magic erasers may leave a dull spot after use, so its best to test on a small area of your wall first. Caution should also be taken when using on glossy or semi-glossy walls.

Baking Soda

To clean stubborn spots on your walls, we recommend using a baking soda paste that is one part water, one part baking soda. Gently apply the paste to the wall and let rest. Once the spot is saturated, wipe the surface clean with a damp cloth and let dry. If the stain remains, reapply the baking soda paste.
Keeping White Walls Clean
All walls begin to show some scuffs and marks over time, but there are ways to keep them looking clean for longer. The most important thing is to act quickly and clean spills as they happen. Also, regularly vacuuming minimizes the amount of dirt and dust swept up onto your walls. Lastly, dust your home frequently to keep your walls looking clean while improving indoor air quality.