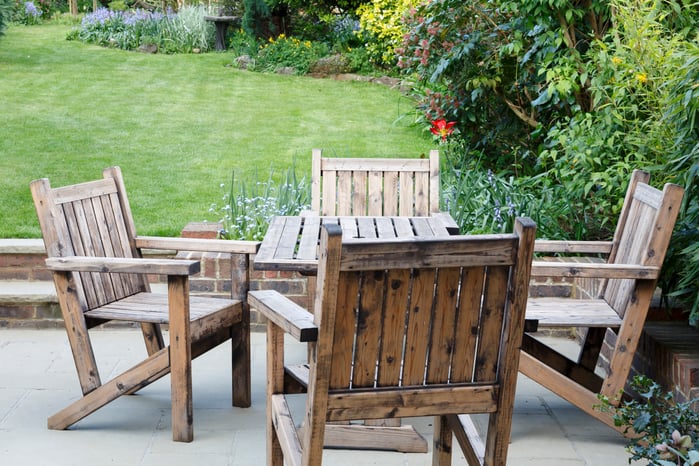 Summer is the best time to enjoy the outdoors and soak up some sunshine. If you have outdoor furniture that you would like to use this season, you may find that it needs a bit of cleaning or maintenance.
Here are some tips for cleaning common outdoor furniture and how you can maintain them for years to come:
Wood Furniture
Cleaning wood furniture plays a vital role in its yearly maintenance. During the warmer months, clean the wood every other week by using a gentle wood cleaner and brush the surface to remove any particles and debris. It is also important to keep the wood dry to avoid mildew or further damage.
You can care for wood furniture by using wood oil which conditions and protects it from the weather. However, the best thing you can do for any wooden furniture is to apply a sealant and cover them when not in use so you can enjoy them during the warmer seasons.
Wicker Furniture
Wicker furniture requires additional patience and care when it comes to cleaning because of its weaves. Keep the wicker clean by regularly dusting the surface with a small brush and mild soap if needed. To remove dirt that made its way into the grooves, use a hose on low pressure and let it dry completely. If you notice any mold or mildew, apply a bleach solution to the wicker and rinse thoroughly with a hose.
Remember to care for your wicker furniture seasonally by using furniture covers during the harsher months with rain or snow.
Aluminum Furniture
Cleaning aluminum furniture can be as simple as rinsing them with a hose and mild soap. Wiping them down with a soft cloth can help remove any scuffs. The benefit of aluminum furniture is that it requires little maintenance throughout the year. However, you can extend the life of aluminum furniture by applying wax at least once a year to protect it from the sun's ultraviolet rays.
Keeping Furniture Cushions Clean
Generally, most outdoor cushions can be cleaned by rinsing with water and scrubbed using mild detergent. If the cushion cover is removable, you can typically wash it in the washing machine using a bleach-free detergent. However, any soft material will fade with exposure to the sun, so you can extend its life by storing them when not in use or during the colder months. When storing cushions, ensure that they are free from moisture and wrap in plastic until the next season.