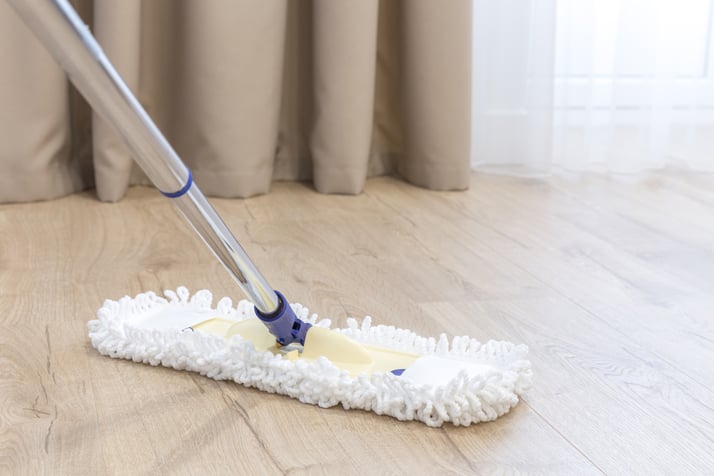 Hardwood floors are an excellent investment for years of use and enjoyment. However, it is important to maintain them through regular cleaning. From sweeping to polishing, here are a few tips for keeping your hardwood floors looking great:
Sweep or Vacuum Your Floors
Regardless of the type of hardwood flooring you have, the process of cleaning is the same unless stated otherwise by the manufacturer. The first step to cleaning your floors is to remove any debris and dust that may scratch the surface.
Begin by sweeping or vacuuming your floors. We recommend a quick sweep or vacuum every day or at least a few times a week. If you are using a vacuum, be sure that your attachment is made for hardwood floors to avoid any accidental scratches. Additionally, if your vacuum uses a brush roller, remember to turn its functionality off as well.
Mop Your Floors
Every other week, remove any dirt buildup by mopping your floors. Remember to remove any dust and debris before mopping and only use enough water to keep the mop head damp. When mopping, wring the water out frequently to keep the mop head clean.
For a more thorough cleaning, you may use a steam mop on your floors but be sure to check that it is designed for hardwood. We only recommend using a steam mop for a deep cleaning if it is within the manufacturer's guidelines. When steaming, keep the setting on low and avoid keeping the mop stationary for more than a few seconds to avoid damaging or dulling the wood.
When mopping, avoid letting water pool on your floors along with any harsh detergents or DIY solutions that contain vinegar. You may use a store-bought cleaning product but generally warm water will be enough for the job.
Shine Your Floors
After time, your floors might begin to grow dull or show scratches from regular wear and tear. A few ways to revitalize your hardwood floors include:
Liquid concealers to cover scratches

Wood floor polish to protect it from wear

Floor wax to deep clean and revitalize the finish
Remember not to overuse any of the above products at risk of damaging the flooring. It is always best to check with the manufacturer guidelines first.
Keep Your Hardwood Floors Looking New
The key to keeping your hardwood floors looking new is to maintain a regular cleaning schedule. However, you can preserve your floors by removing any shoes at the door, using rugs in high traffic areas, and cleaning up any spills as soon as they may occur.