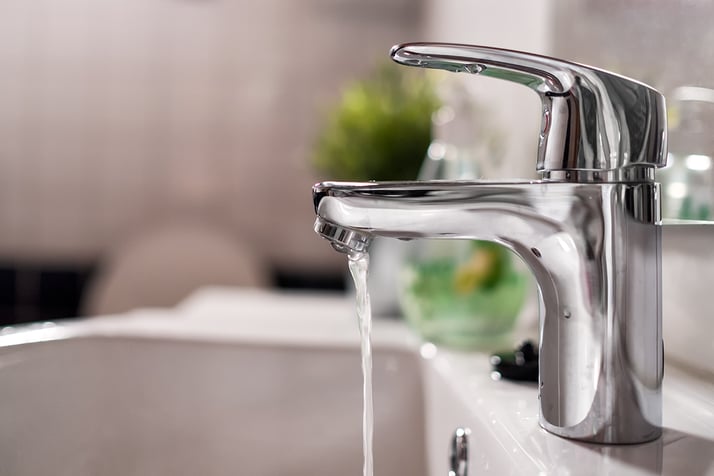 If you're thinking about upgrading your home faucet in the near future, there are a few types you can consider. Each faucet type has its pros and cons, but serve their own purpose based on location and preference. Here are 4 types of faucets to consider:
Cartridge Faucet
Cartridge faucets are best for kitchens and bathrooms. They have two handles and look nearly indistinguishable from a compression washer faucet. What makes them different, however, is how the handles feel when in use. Cartridge faucets have smooth turning handles that open and close the water flow and require no additional pressure to control. These types of faucets are durable and typically need little maintenance.
Compression Washer Faucets
Compression faucets are typically found in older homes or used in utility sinks. They are an older type of faucet that are affordable but may need occasional maintenance since they are prone to leaks. Compression washer faucets have two handles that separate hot from cold water and when turning the handles, require a bit of pressure to control the water flow. These faucets operate through a compression stem, hence their name.
Disc Faucet
Disc faucets are great for kitchens and bathrooms and utilize modern technology with ceramic discs. These faucets use a single lever connected to a cylindrical body which controls hot and cold water at a variable rate. Disc faucets are reliable and resilient pieces of hardware that need little maintenance for regular day-to-day operation.
Ball Faucet
Ball faucets are usually found in kitchen sinks and known for their single handle that maneuvers over a ball-shaped cap above the spout base. These faucets are useful for their control over water temperature and spout angle, though the angle can also be a drawback when handling large objects in the sink. Ball faucets are not usually as durable as other faucet types due to a number of components that may fail over time, but are generally quick and affordable to repair.
Choosing a Faucet
After choosing the type of faucet you would like to install in your home, it's important to pick a manufacturer that makes quality hardware that lasts for years with use. At A. Borrelli, we recommend Wolverine Brass faucets with a lifetime warranty which offers the best value at quality, design, and functionality.
Contact A. Borrelli to learn more about which faucet types are best for you and get a quote on Wolverine Brass faucets.