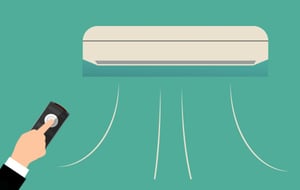 Summer has arrived in Westchester. As the days get hotter, many homeowners might be wondering if they should invest in a new air conditioning unit, or continue to repair and operate an old, inefficient one.
Check out some telltale signs of when it's time to replace your unit:
1. Lifespan
A well maintained AC unit can last 15 - 20 years. But if you find your AC is older than 10 years and in need of extensive repairs, it's smart to replace it with a newer, more efficient unit. A good rule of thumb is if the cost of a new AC is more than the cost for repairs, multiplied by the age of the unit, repair the air conditioner. Otherwise, replace it with a new one.
2. It uses R22 Freon
If your AC was installed before 2019, it most likely has the R22 refrigerant. Also called Freon, this refrigerant is being phased out by the federal government to conserve energy. Additionally, the prices of Freon have risen dramatically, making maintenance and repairs costly. If you AC runs on R22 Freon, replace it with a unit that uses modern refrigerant.
3. Inefficiency
If your AC has a low SEER rating, it can cost a lot of money to operate. SEER, or "Seasonal Energy Efficiency Rating," is the ratio of the cooling output of an air conditioner over a typical cooling season, divided by the energy it consumes. Any SEER rating below 13 should be replaced with a newer unit.
4. Frequency of repairs
If your unit constantly breaks down and requires frequent repairs, it might be time to bid adieu. Repairs costs can add up, and cost you more money in the long run. Save yourself the hassle of calling an HVAC company every month by replacing with a new unit.
Looking to replace or repair your unit? Contact our certified, highly experienced technicians for all your AC needs.