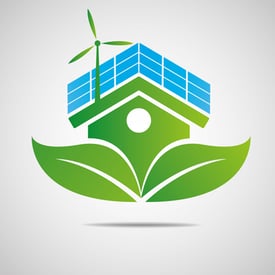 In the United States, there are two gold standards that label products for use in the home or business as "energy-efficient." The Energy Star and WaterSense programs aim to make it simple for consumers to know when a product exceeds industry standards by a specified margin. Pieces of equipment with these labels often cost more to purchase, however. By looking at the actual numbers and the expected use of the machinery and fixtures, property owners may better understand the return on their investment.
Fixtures
There is no doubt that low-flow faucets, shower heads and toilets make a significant difference in water consumption. For example, shower heads manufactured prior to 1992 may have used as much as 5.5 gallons per minute (GPM), according to the U.S. Department of Energy. The current standards require shower heads to use less than 2.5 GPM. Faucets and shower heads with the Environmental Protection Agency's WaterSense label may use 80 percent or less water than conventional fixtures on the market. You could save as much as 60 percent of your water consumption, and a possible $145 a year on saved energy.
Appliances
The appliances you use to heat your water through the home stand to show even more savings. Water heaters are the second-biggest consumers of energy in the home or business. In fact, Energy Star appliances can reduce that energy consumption by as much as half. For example, an Energy Star-certified standard tank water heater that runs on natural gas may save owners up to $3,000 over the life of the machine. The savings, however, is measured mostly by use. Those who use less water and do not utilize water heating services as often will see less savings overall.
In the end, savings on water or energy depends largely on use. If a faucet may only be used sporadically, owners may not observe a great return on their initial investment. For frequent use, purchasing products with the Energy Star or WaterSense labels may result in hundreds of dollars saved, along with many hundreds or thousands of gallons of precious water. Customers who weigh out this balance are able to target their purchases of energy-efficient equipment to the areas with the greatest productivity. The plumbers at A. Borrelli Mechanical help property owners assess their efficiency needs and create solutions that will work best for them.
---
With licensed, trained, and insured technicians in Westchester and Fairfield, homeowners and businesses can count on A. Borrelli HVAC to handle their heating, cooling, and plumbing needs expediently. At A. Borrelli, we do HVAC and plumbing right, so call us at (914) 301-7495 today!