It can be hard to let go of your old heating system and commit to a new one you hardly know. With the fall and winter season fast approaching, now is the perfect time to assess your current heating system and see if it is time for a replacement. Read on to see the different options available to homeowners to find the best one that fits your needs.
Furnace (Forced Air Heating)
A furnace, usually powered with gas, distributes air that is warmed by the furnace's burner or heating element through a network of ducts. Furnaces can heat the air with electricity, propane, oil, and natural gas.

While forced-air furnaces are relatively inexpensive and can combine cooling with heating capacity, they tend to need replacements more frequently than other heating systems. They also require ductwork and take up space in walls.
Boilers

Boilers are another common heating system that sends hot water or steam through pipes to provide heating. Boiler/radiator systems can be fueled by natural gas, liquid propane, fuel oil, or electricity. Just like furnaces, Boilers are considered central heating systems because the heat is generated in a central area of the home and then distributed throughout the house. They are, however, significantly more expensive to install and cost more money to run.
Baseboard Heaters

Baseboard heaters are an effective and affordable choice for heating. These systems also use a centralized boiler to heat water that circulates through a system of water pipes to low-profile baseboard radiators. They can be fueled by natural gas, liquid propane (LP), fuel oil or electricity. These systems have excellent energy efficiency, but can't be combined with AC systems. They can also provide challenges when placing furniture.
Heat Pump

The newest home heating (and cooling) technology is the heat pump. Depending on the system, heat pumps either extract heat from outdoor air or the earth. A heat pump can save 30% to 70% on home heating costs and 20% to 50% on home cooling costs when compared to other systems. However, the initial installation costs are much higher than the duct work systems. They also work best in moderate climates, where temperatures rarely dip below freezing.
Radiant Heating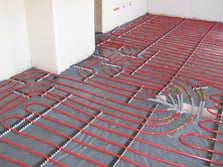 Radiant heating uses hot water tubing or electrical wires located in the floor (or sometimes in ceilings and walls) to radiate heat into the room. Hot water tubing systems are usually heated by a central boiler, which can be fueled by natural gas, liquid propane (LP), or electricity.
While they can last a long time, installation of in-floor systems is expensive and it is difficult to access hidden piping if any problems emerge.
Choosing a replacement heating system is a big decision. Contact A. Borrelli for more information on selecting the right HVAC system for your home or business.