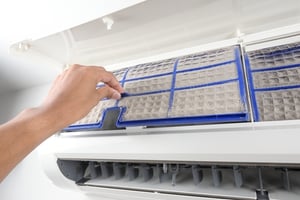 Want to know a secret? A few strands of fiber and a little paper can save you a whole lot of money.
Sure, that sounds like a sales pitch for one of those "too good to be true" promises of "home repair secrets they will never tell you." (They, of course, could be builders, mechanics, or pretty much anyone in a repair-related trade). It's the they who work miracles in your home, everything from fixing a hole in your roof to a mending a broken, leaky pipe.
They do the job more thoroughly than most of us can. But in return, they tend to give us proper but still wince-worthy bills. And this is why we look for less expensive reasons to call them in.
Issues
However, HVAC technicians are a little different. They're as equally skilled as the other professions, but they truly want you to know – no secrets – that buying a new air filter on a regular basis can be a great way to help the performance and longevity of your heating and cooling system.
The basic role of the filter is to protect the furnace fan from the dust, dander, spores and other stuff the return duct sucks up. The process of removing this stuff also improves air quality by keeping it out of the airflow. Just like any filter, it can eventually be clogged. If not changed, it could fill up and start not working well, which means more dust in your house and decreased system performance.
Solutions
Just about every hardware store sells filters which vary from a few dollars to $10-$30 depending on quality. They'll also include a recommendation of how often to change them, often a month to a quarter.
HVAC techs may have recommendations for brands they like to work with or work best with your system.
Some prefer non-disposable filters that can be washed. Handyman Bob Vila said the washable filters, or technically the "permanent electrostatic filter" ones can be found for about $20 apiece and can be used for five to 10 years. He recommends removing and rinsing them month and letting them dry before putting them back in.
Supporters of disposable filters say these have their advantages, including price, and that it might be a challenge to thoroughly clean a washable one. Non-washable ones are also designed to attract and retain smaller contaminants, not just larger dust and dirt.
---
With licensed, trained, and insured technicians in Westchester and Fairfield, homeowners and businesses can count on A. Borrelli HVAC to handle their heating, cooling, and plumbing needs expediently. At A. Borrelli, we do HVAC and plumbing right, so call us at (914) 301-7495 today!