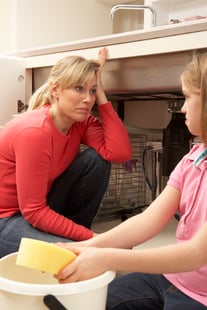 Some plumbing problems, like dripping faucets and clogged sinks, are annoying and wasteful. Others, such as a damaged water heater or leaking toilet, are more serious. By establishing an emergency plan and taking quick action when problems arise, business owners protecting their investment and make it easier for plumbers to solve the problem.
Emergency Plans
Business owners face many of the same problems that homeowners cope with during a plumbing emergency, only on a greater scale. If a toilet in the main floor restroom floods the entire floor, there are several factors to consider, including:
Equipment damage
Risk of injury to customers
Long closures for repairs
Lost wages for employees
Having a plan in place helps to ensure that the business owner is not the only one who knows what to do during a disaster. Make a list of emergency contacts, including a reliable plumber like A. Borrelli Mechanical. And, all managers on the floor should be trained to practice reliable emergency response techniques, including contacting us for advice, evacuating customers and employees safely, and taking steps to protect the company's equipment and inventory.
Quick Action
When employees and customers follow the emergency plan, it allows managers and business owners to focus on mitigating the damage. Once we are called, our clients have some time before we arrive. In that time, we suggest that those in charge try to locate the water shutoff valve and turn off the water. It is often located near the water meter. This stops the water from flowing, which can prevent leaks from turning into serious floods. Then, business owners can look at risky situations presented by the water flow. Sensitive technological equipment should be unplugged and removed from the property. If possible, managers can switch the circuit breakers to shut off power to affected areas, to reduce the risk of electrocution while removing equipment and inventory.
Anytime water threatens to turn into a flood, managers need to know just what to do. Calling us at A. Borrelli Residential & Commercial HVAC Services is the first step. Then, taking customers and employees to safety is second. Finally, business owners can act to prevent further damage so their property, so we can get to work immediately when we arrive. For more information related to your company's plumbing needs in Westchester County and the New York City Metro area, contact us today.