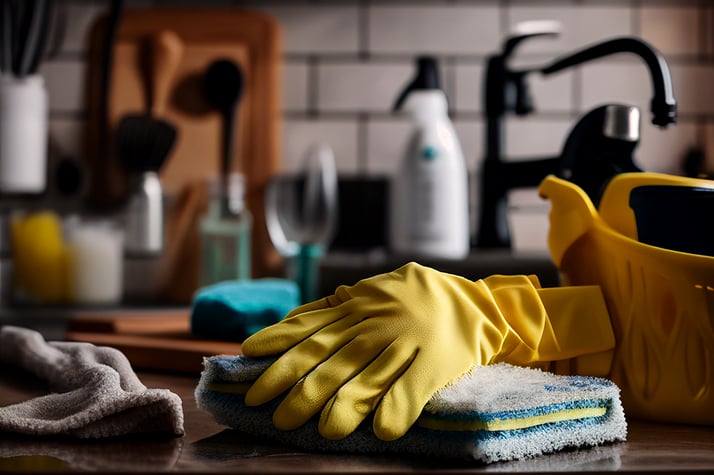 With spring just around the corner, there is a lot to look forward to. From warmer weather and tending to your garden or other projects you might have planned, it's time to shake off the winter hibernation and welcome the sunshine. In the coming weeks, it's also a good idea to get ahead on your spring cleaning for a fresh start to the new season. With a bit of preparation, you can breathe new life into your home.
Here are some tips to help you get ready for spring cleaning:
1.

Make a Plan
Before you dive in, it's a good idea to create a cleaning plan. This will help you stay organized and focused, and ensure that you don't overlook any areas that need attention. Start by making a list of the rooms in your home that need to be cleaned, and then break each room down into specific tasks. For example, in the kitchen, you might want to focus on cleaning the oven, wiping down the cabinets, and scrubbing the floors.
2. Gather Supplies
Make sure you have all the supplies you need before you start cleaning. This might include cleaning products, microfiber cloths, a broom and dustpan, a vacuum, and rubber gloves. You may also want to invest in some storage bins or baskets to help you organize clutter as you go.
3. Declutter First
Spring cleaning is the perfect opportunity to get rid of any items you no longer need or use. Start by going through each room and setting aside items that can be donated or discarded. This will not only make it easier to clean, but it will also help to create a more organized and spacious living space.
4. Start From the Top
When cleaning each room, always start from the top and work your way down. This will prevent dust and debris from falling onto surfaces you have already cleaned. Begin by dusting light fixtures and ceiling fans, and then move on to cleaning windows, walls, and baseboards.
5. Don't Forget the Details
It's easy to overlook the small details when cleaning, but they can make a big difference in the overall look and feel of your home. Don't forget to clean areas like door frames, light switches, and vents, and pay extra attention to any hard-to-reach areas like behind furniture and appliances.
6. Take Breaks
Sometimes a thorough cleaning can be a big job, so it's important to take breaks and pace yourself. Make sure you stay hydrated and take breaks to stretch and rest your muscles, especially if you are moving heavy furniture or cleaning the ceilings.