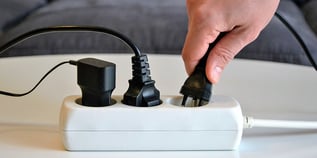 During these difficult times, saving money is on the list of priorities right next to staying safe. No matter how much time you are spending at home, there will always be ways that you can save energy and lower your bills. Here's how you can be more energy-efficient this summer.


1. Unplug your electronics
Even when not in use, electronic devices can be pulling power when they are plugged in. Unplugging things such as microwaves, TVS, chargers, and other devices when they are not in use can save the amount of energy you use at home. Try using a surge protector for multiple items so you can just unplug the power-strip from the wall.
2. Seal your doors, windows, and HVAC ducts
Your AC works hard to cool your home, and gaps in insulation can make it work even harder. Make sure no cold air is leaking from your vents and properly seal them to avoid high-energy bills.
3. Cook outside
Grilling season in New York and Connecticut is only here for a few months. Take advantage of the warmer days and fire up the grill as often as you can. This is especially helpful if you have an electric stove and oven.
4. Turn on your bathroom fan
When you shower, the steam can add heat and humidity to your home causing your HVAC and humidifier systems to work harder. Turn on your fans while showering to suck the humidity out of the air.
5. Service your air conditioner
Regular AC maintenance ensures that your vents are clear and your system is up-to-date. Air conditioning systems more then 10-years-old might not be as energy-efficient as newer systems. This can end up running up your energy bill.
6. Plant trees near your windows
It is the perfect time to start improving your landscaping. Planting trees or larger shrubs near your windows can help shade your windows, keeping your AC bill down.