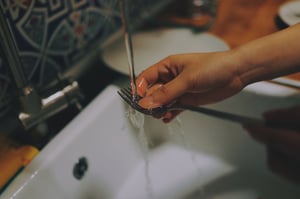 For many, Thanksgiving week is a very busy time. You spend November preparing for your Thanksgiving dinner with friends and family. You might get through the prep without a hitch but once dinner ends, clean up begins and food goes into the disposal. That's when it happens — you have a plumbing disaster. Thanksgiving weekend is one of the busiest days of the year for plumbers. To keep your plumbing disasters to a minimum here are proactive steps to take so this scenario does not happen.
1. Lay Off the Garbage Disposal
You're dealing with far more dishes and leftover food than normal. Scraping everything into the disposal doesn't work well when you double or triple the amount of people having dinner. Put as much food as possible in the trash. If you have to use the disposal, pace the rate that you put food through it.
2. Avoid Problem Food
Bones and fibrous food shouldn't go into your disposal even when you're not having a get-together. Bones can break the mechanism, and fiber-rich food gets caught in drain lines and blocks everything.
3. Handle Grease Before Pans Go in the Sink
Rendered turkey fat, butter and other grease-generating food are common sights on Thanksgiving menus. Pour oil out of pots and pans and into a metal mixing bowl, coffee can or another designated container. Wipe any lingering fat with a paper towel.
4. Run Cold Water While Disposing of Food to Avoid the Need for Plumbing Service
Running water moves ground-up food through the disposal unit and into the pipe so it doesn't jam the flywheel. Cold water works best because any lingering fat becomes solid, which can reduce the risk of a clog further down the line.
5. Don't Run the Dishwasher
When you have a problem with the garbage disposal, the last thing you should do is turn on the dishwasher. Handling Thanksgiving dishes by hand is not anyone's idea of a good time, but it's better than the drain water backing up into your sink. You can wait until after people head home to call local plumbers.
Thanksgiving is a time to be with your friends and family and enjoy good food. You don't need the stress of a plumbing problem to take away from this time. Use these tips to keep your garbage disposal in top working condition. If you find yourself in a Thanksgiving plumbing disaster
contact A.Borrelli for your plumbing repair
.
A. Borrelli Mechanical has over 30 years of experience in Westchester. We are an established leader of plumbing services in the area and a well-known name.
A. Borrelli Mechanical is on-call 24/7 to take care of any plumbing emergencies.