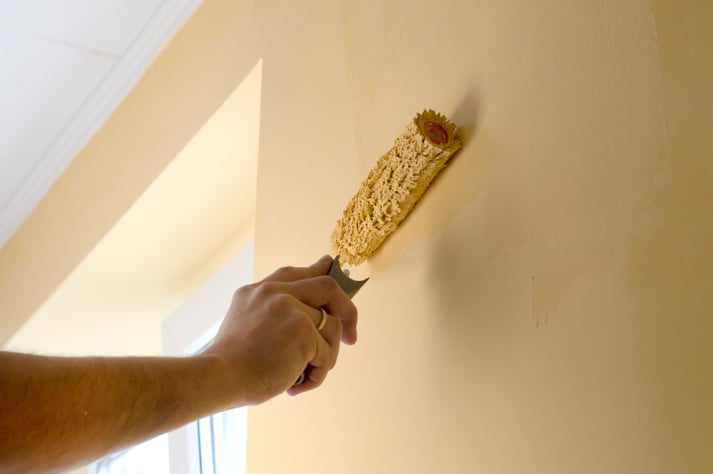 It's always a good idea to take some time for home improvements. Whether you are thinking about putting your home on the market in the foreseeable future, or want to get the most out of your living space, working on your home will lend a return on investment not only for your quality of life but also in the long run.
Increasing the value of your home doesn't have to be a costly venture; there are many DIY improvements you can make. Alternatively for more complex projects, hiring a professional is always the right choice. Here are 5 improvements you can make to your home to increase its value:
1. Repaint
After regular wear and tear, cabinets and doors can begin to lose their finish. Instead of replacing them or hiring a painter, you can paint them yourself. Be sure to use a quality primer and paint sprayer for an even finish. You can also try to match the former color with the new coat by going to a hardware store and picking out paint swatches.
While walls do not need to be repainted as often, it is worth considering the last time they got a fresh coat. Perhaps over time your walls accumulated stains or you just want a new color to brighten up a room. A fresh coat of paint will not only change the lighting of the room, but also is a great way to add value to your home.
2. Remove Mold
One way to boost the value of your home is to clean the spaces that may contain mold or have water damage. You can remove mold through DIY methods by using mold remediation solutions. However, if you choose to remove any mold yourself, ensure that you have the correct safety equipment to protect you during the project. If you find yourself uncertain about how to tackle mold removal, it is best to call a professional. By accounting for these emergency projects, you will not only increase the value of your home but also make it a healthier place to live.
3. Declutter
Another easy way to improve your home value is to tackle clutter and determine what can stay, go, and be organized. Start with the spaces that are typically used for storage such as the basement and garage before moving to other parts of your house. Organization will increase your quality of life and make your home more attractive should you choose to place it on the market.
4. Replace Hardware
Hardware in your home might need maintenance or replacement. If you think it is time to change the door knobs, cabinets, or vent covers, consider replacing them with a new style that is guided by the design of your rooms. Similarly, you can install or replace light bulbs and fixtures to brighten a room and change its aesthetic.
For hardware such as sinks, toilets, or showers, ensure that they are maintained along with their plumbing. For these projects, we recommend hiring a professional who can help you find the best options and install the replacement.
5. Maintain Your HVAC System
When you run HVAC systems for long periods of time, dirt, pollution, bacteria, and virus particles can accumulate in the filters and ducts. But since the HVAC system is hidden out of our sight, many homeowners tend to neglect its cleaning and maintenance.
Preventative maintenance is key to a healthy HVAC system, and a comfortable, happy indoor environment. Reactive maintenance (only when it's needed) is a costly way to maintain your HVAC unit. Regular servicing can spot big problems while they are still small. Keeping up your HVAC unit will be sure to add long term value to your home.
Boost Your Home's Value
Taking these steps to improve the value of your home doesn't need to occur within a few weeks; tackle each project one step at a time by order of priority. Through maintenance, you will take full advantage of your home while investing in its future.