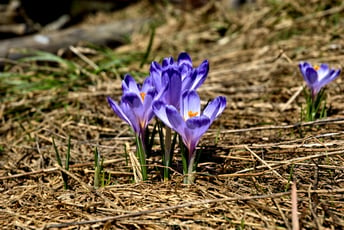 Spring has arrived, bringing with it a handful of maintenance tasks. Your air conditioning equipment needs some preparation before you can turn it on. If you take the opportunity to get a head on these jobs, you will enjoy more effective cooling, when the summer finally arrives. Here are 5 steps to HVAC spring maintenance.
Step 1 - Clear a Path
Outside maintenance work such as pruning back trees and bushes is necessary to clear the surrounding area so air can flow. To let your unit "breathe," create at-least 3 feet of open space around the unit. Avoid constructing decks above your air conditioner, and leave a minimum of 5 feet of space above it. This also helps air conditioner repair technicians easily access your unit. Regularly clear the area around your unit of debris such as leaves and dirt.
Step 2 - Replace Your Filter
Changing the filters is the single most straight forward HVAC maintenance task for you to do. When the air filter is dirty, it slows down the process of heating or cooling, and can negatively affect the building's indoor air quality. Usually, cleaning or changing the filter is all you have to do to improve HVAC output and even decrease allergy symptoms for those in the building.
Step 3 - Check the Belts
The belts that connect the blower to the motor can wear out, crack and break overtime. This makes the whole unit useless, checking the unit every spring will ensure air is able to circulate throughout the summer months.
Step 4 - Look for Safeties
Make sure the safety component on your AC system is working in case something goes wrong. In the case of a failure, a safety device can detect problems with various trouble points such as unusual pressures, temperatures, voltages, current, and countless other specialized problems.
Step 5 - Get Air Conditioner Maintenance Check
Make an appointment for air conditioner servicing/maintenance checking in Westchester before summer arrives. An HVAC mechanic will work to blow out the lines, replace filters and check safety controls. The mechanic also inspects belts, the thermostat and refrigerants. In fact, one of the most important things a mechanic does is to check for duct leakage. Such leakage decreases the energy output of air conditioners, preventing them from creating sufficient cold air. Sealing ducts can restore a lot of efficiency to your unit.