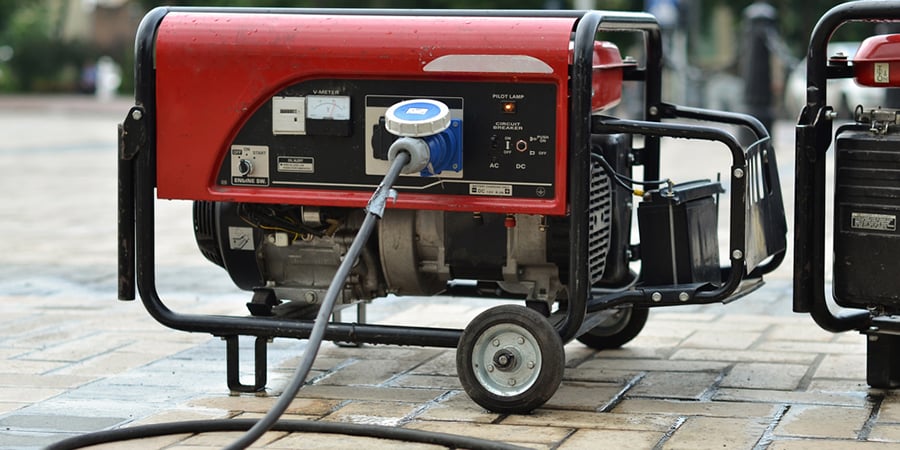 The Summer storms have been rolling into the East Coast the last few days. It's safe to say that the Tri-State area has experienced our fair share of power outages in the past. Before you have to pull out your back-up generator, it is wise to know that you are using it properly. Follow these generator safety tips.
1. Where To Plugin A Generator
The generator is used to supplement your regular electricity. For this reason, you should NEVER use a regular wall outlet as your generator's power source. For basic home use and necessity, your generator should be directly connected to an outdoor-rated extension cord that can handle the electrical load or any appliances that you have connected. Before anything, you should disconnect all other sources of power that you would use for your home.
2. Keeping A Portable Generator Dry
Just like any electrical piece of equipment, your generator should stay dry. This means that it should be kept in a place with cover from rain. You can buy a generator tent, shed or cover to store and protect your generator. Another option is to keep your generator inside of their garage. Be sure that the garage door stays open when it is running for ventilation. You should also be sure that your hands are not wet when operating your generator.
3. How To Properly Position A Generator
It is important that your generator is located outside and away from your house on a properly grounded surface. If it is an enclosed area or in your home, it can lead to carbon monoxide poisoning. If it is on uneven ground, you run the risk of shocks or electrocutions. To ensure that your generator is properly placed, you can:
Make sure it is 15-feet or more away from your home.
Make sure windows closer to than 15-feet from the generator are closed.
Refer to OSHA guidelines for grounding requirements for generators.
Always have your carbon monoxide detector plugged in with working batteries.
Invest in a generator tent, shed, or cover.
4. Refueling A Generator
Although you shouldn't be storing fuel for an extended period of time, it is ok to store gasoline or diesel to use for your generator as it's in use. Any fuel that you are storing for your generator should be kept in a well-ventilated, cool place. Make sure that before you refuel your generator, it has been turned off and has had time to cool down.
5. Running Air Conditioning On A Portable Generator
There are some portable generators that have enough running wattage to run your AC during a power-outage. But in order to have your generator power your AC, it needs to have a high enough "starting wattage" to do so. This refers to the amount of watts it takes to power on your AC system.
It is important to prioritize appliances during a power outage so that you don't run the risk of electrical damage. If you are unsure what you are able to run, ask a certified professional which appliances are safe for your generator.