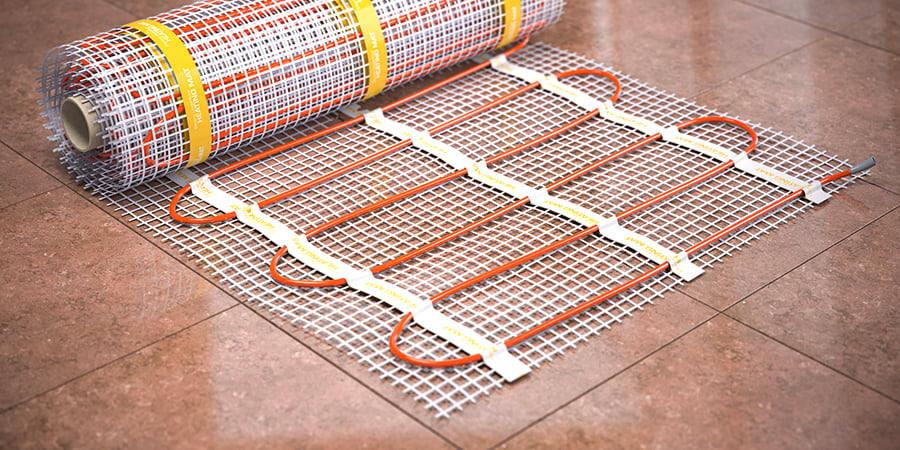 Getting out of bed and stepping on a cold floor in the winter is never enjoyable. There's no denying that floor heating is one of the coziest ways to heat a home. If you're looking into a new heating system this Winter, consider radiant floor heating as an option for your home.
What is Radiant Floor Heating?
A popular choice in new housing and renovations, radiant floor heating is exactly how it sounds. Electric or water heated systems are installed underneath your flooring. They not only warm your feet, but your whole home.
1. Radiant Floor Heating is Energy Efficient
There are two types of types of radiant floor heating--water and electric. Whether you have one or the other, they both are more energy efficient than the traditional radiator. Floor heating only has to reach a temperature of about 84 degrees Fahrenheit to heat a room whereas traditional radiators need to reach 150-167 degrees. This can save energy and lower your electric bill.
2. Radiant Floor Heating is Easy to Use
Just like any new heating or cooling system you get installed to your home, radiant floor heating has the newest technology. This means that it is easy to use and program your thermostat. Most new systems have smart technology that you can control directly from your phone.
3. They Prevent Cold Spots
Radiators heat from the air that is closest to them first. This creates cold spots that you might feel further away from your heater. Radiant floor heating systems prevent cold spots because they are spread throughout the entire room. This means that the heat is evenly disbursed throughout.
4. They Work With All Floor Coverings
You might have seen floor heating in rooms where you are normally barefoot, such as a bathroom with tile. But floor heating can be installed under any type of floor. This gives you freedom to design your home the way you like it without having to worry about limitations.
5. Radiant Floors Require Little Maintenance
Although it is pricier to install than traditional heating, radiant floor heaters require less maintenance. Because it is stowed away, it won't be exposed to things that can cause wear and tear. The best part? The technology used in floor heating will allow you to see that your system is running smoothly, and if there are any problems.