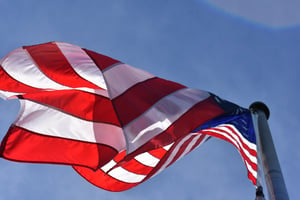 With the 4th of July just around the corner, many homeowners are prepping for barbecues, watching sports, viewing firework displays, and having people over for the festivities. But how do you let your guests stay cool in the summer heat, without breaking the bank on energy bills?
1. Minimize traffic - Most 4th of July festivities, such as barbecuing, occur outside. But some dishes might require the use of a microwave or over. The constant opening and closing of doors can let the cold air out, leaving your AC to work harder to keep your house cooler. Minimize traffic to your house by planning on only preparing dishes that can be cooked outside, such as burgers.
2. Watch what you put into the disposal - BBQ foods can break your garbage disposal. Tough bones, fruit pits, and starchy food like macaroni salad can all cause damage to a disposal's blades.
3. Use portable fans - A portable, battery-operated fan will help keep your guests cool without breaking your bank. Many of these fans also come with water misters to help you and your guests keep extra cool.
4. Keep yourself and your guests hydrated - With most of the festivities happening outdoors, you and your guests should be drinking 1 to 2 liters of water per hour. And while you might want to drink alcoholic, caffeinated and sugary drinks, remember that these will actually make you more dehydrated.
These simple tips will go a long way to your enjoyment of the festivities and save you money. Above all, make sure to have fun and enjoy this Independence Day!
---
If you're worried about your air conditioner being in tip top shape before you start celebrating, seek professional maintenance. This will maximize the efficiency and effectiveness of your system, and make sure it runs smoothly all summer long.