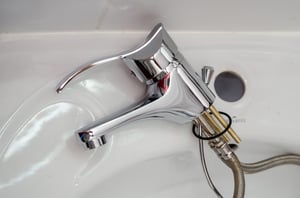 Plumbing problems happen. You could be dealing with anything from a leaky faucet to a building-wide outage. Whether you need routine maintenance or emergency service, finding the right plumber can be challenging. Some plumbing services show up hours late while others never show at all. It might be tempting to attempt a do-it-yourself fix, but that could cost you in the long run too.
Before you sign anything or agree to pay a plumber, be sure to ask these four questions:
1. Are Your Plumbing Services Guaranteed?
No one wants to pay twice for the same service. Calling out a plumber to fix a water heater should not leave you with cold water in your shower a month later. Before you agree to any work starting, make sure that the plumber you use offers a work guarantee. Guaranteed work often means that there will be no need to make the second call since the company only charges you once.
2. Do You Offer Emergency Service?
In most cases, when you need a plumber, you need one now. Water might be pouring from a broken water main or you could have sewage backing up the pipes. Any delay can cause very costly damage to your home or commercial property. Some plumbing contractors offer after-hours service, but not all of them include 24/7 response times. Make sure that the company you choose will be out any time of the day or night to help with your plumbing emergency. Also, check for rapid response times. The last thing you want to do is wait for hours on a callback. Look for a two-hour guaranteed response time to a service call.
3. Are You Insured?
You do not want to be legally responsible for any injuries to the plumber while they are on the job or in your home fixing a plumbing issue. A "yes" answer should mean the plumber is prepared to give you evidence of his/her bonding and insurance.
4. Do You Service Anything Other than Plumbing?
You'll also want to minimize the number of contractors you use. The more numbers in your contacts list, the more difficult it is to find the right person for a job. Plus, once you have a reliable service provider, you won't want to spend a lot of time trying to find someone else. Ask about all the services a plumbing contractor offers. Some might also work on HVAC systems, giving you one number to call for all plumbing, heating and air conditioning issues.
Once you know that a plumbing service guarantees their work, will be there when you need them and can handle jobs not strictly related to your pipes, you may have found a winner. Then, it is just a matter of negotiating the price and scheduling service.
Ready to hire a plumber?
Now that you are equipped with all the questions you need to ask a plumber, contact A. Borrelli to learn more about our plumbing services.