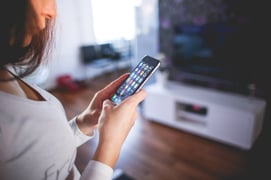 We've all been there -- rushing out the door on the way to the airport so quickly you barely remembered to put on shoes. By the time you get to the airport departure gate, there is a little voice in the back of your mind whispering "Did I turn down the thermostat?" With a wireless system, you can silence this nagging little voice forever! But that's not the only reason to go wireless:
Here are the top three reasons a wireless, ductless A/C is the right choice for your home or business.
1. Stay Put, Couch Potato
Many thermostats are not placed conveniently near the areas in your home you occupy the most. And while you're lounging on the couch after a long day, trekking into another room to change the temperature sounds like running a 5K. With a wireless system, you can control the heating and cooling of your home with the touch of an app on your smartphone or tablet.
2. Everybody's Happy
Wireless systems are zoned so you can say goodbye to complaints from people breaking out a sweat in the den while everyone in the living room is huddled under blankets. Create custom temperature zones throughout your home or business, and everyone's comfort is ensured. You can makes zones floor-by-floor or room-by-room.
3. Efficiency Equals Savings
When your system is more efficient, you know you're saving money. Because you can cool a single room or floor instead of the entire property, you're not wasting money on A/C in an empty room. Similarly, you can turn down the A/C while you're on vacation and schedule it to return to normal a few hours before you get back. If you live in a cold climate, you can schedule the heat to turn on a few hours each day. You get to avoid frozen pipes without blasting the heat the whole time you're gone!
Wireless heat and air conditioning in Westchester and the NYC metro is a great solution for your home, vacation rental or commercial property.
Interested in efficient and convenient HVAC?
Learn more about wirelesss comfort control
here
.