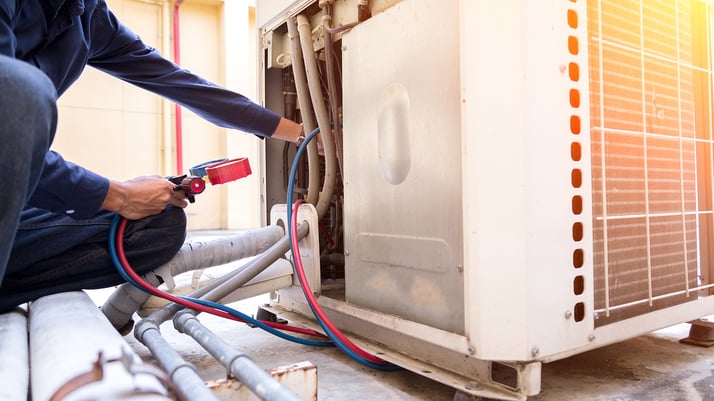 As this year's brutal winter comes to an end, it's time to transition to warmer weather. As you open your windows and let the Spring air fill your home, it is important to remember that your HVAC system still needs attention. Here are some tips to get your HVAC system ready for the warmth.
1) Test it Out - This is the simplest and most important test. Turn on your system to make sure it is functioning properly. Let the air conditioning run long enough to ensure it is cooling your house so that any issues you may have can be addressed before the heat rolls in.
2) Take the Proper Cleaning Measures - Blockages in your system can make it work harder than it needs to, creating issues in reaching or maintaining a steady temperature. First, clean around your unit removing leaves and debris. Next, clean the air ducts and change your filters. This reduces the chance of possible mold and restricted airflow.
3) Perform a Self-Maintenance Check - After cleaning your system, you should performing a self-maintenance check to the best of your ability. Make sure that there is nothing restricting any of the openings within your home and unit. Check all your fans, blades and motor for signs of wear.
If you identify any issues during your self-maintenance check, reach out to an HVAC professional. They can perform repairs and further maintenance checks to ensure your system will run smoothly in the warmer months.
Why is it Important to Take Care of Your HVAC System?
According to the U.S. Energy Information Administration, 84% of Americans have some sort of air conditioning unit in their homes. Whether you have a small window unit or a full-system, it is just as important to maintain your cooling appliances. But why?
The main reason to maintain your HVAC system is to save you money. Ignoring regular system checks and continuous use can result in damaging your system. HVAC replacements and repairs have an average cost of $10,000, which is much steeper than a routine maintenance check. Keeping your system clean and up-to-date can ensure it lasts.
On top of causing damage to your unit, ignoring routine checks can raise your regular rate. When a system has to work harder to do its job, it is using more energy and, therefore, costing you more money.
Get a Professional Opinion
By making sure your HVAC system is running efficiently, you can make sure to stay cool this summer. An HVAC professional can properly inspect the ductwork and HVAC system throughout your home and make any necessary repairs. Contact A. Borrelli today.